Professional Hoarder Cleanups in Warren and Throughout Macomb, Oakland, Wayne Counties
We clean messy, cluttered spaces & restore clean, safe living conditions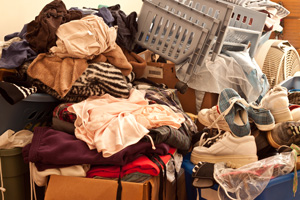 Extreme acquisition. Hoarding can involve a wide variety of items that are collected compulsively.
Do you need hoarding help and aren't sure where to start? We can help with all of your hoarding cleanup needs and much more.
A residence that's cluttered by hoarding is almost certain to have sanitary and safety problems. In extreme cases, hoarding conditions can be life-threatening.
Contact us today to request a free assessment of your home. From moderate clutter to severe hoarding, we can provide organizing and complete clean-out services. Hoarding remediation is a specialized service and we have an experienced team of experts who are standing by to help.
Signs of hoarding problems:
Everyday activities are difficult due to cluttered spaces.
Sanitary & safety problems caused by clutter.
Ongoing impulsive acquisition of unnecessary items.
Inability to get rid of unnecessary possessions.
Difficulty in categorizing or organizing possessions.
Complete & considerate hoarding cleanup
Hoarding is a recognized mental illness that can cause serious health and safety problems. It also can make a property difficult or impossible to sell or rent.
Many different items can be collected by individuals afflicted with a hoarding disorder: newspapers, clothing, equipment, souvenirs, yard sale "finds" and even pets.
We recognize that individuals afflicted with a hoarding compulsion require treatment by qualified medical and psychological specialists. But to deal with the mess left behind, it's smart to contact the cleanup specialists at On-Site Specialty Cleaning & Restoration. Working with care and consideration, our technicians can remove hoarded items and make the home environment clean, safe and habitable again.
Make a fresh start in a "new" space
If you are forced to deal with the extreme clutter caused by hoarding, we can help. Let us inspect the property, provide a Free Estimate, and work to restore cleanliness, safety, functionality and property value. Our services can help people affected by hoarding to make a new start.
Call us at 1-855-209-7280 or request an estimate online today!
At On-Site Specialty Cleaning & Restoration, we provide restoration and cleaning services in Sterling Heights, Livonia, Dearborn and surrounding areas. We offer carpet cleaning, complete building restoration and more.
Looking for a price? Get a no cost, no obligation free estimate.